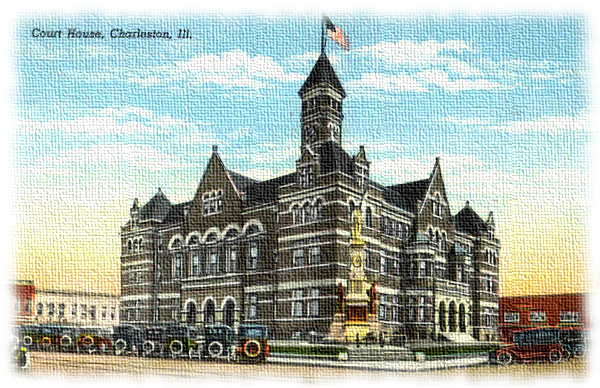 My name is Billie Walsh. I am your host while visiting the Coles County site on ILGenWeb.
Happy Birthday Illinois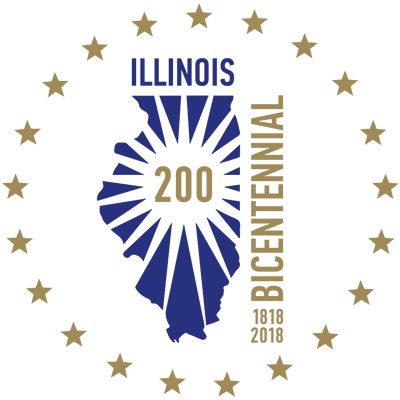 Coles County was organized on December 25, 1830 out of Clark and Edgar counties. It was named after Edward Coles, the second governor of Illinois, from 1822 to 1826.
Thomas Lincoln, father of future President Abraham Lincoln, moved to Coles County in 1831. Thomas Lincoln died at his Goosenest Prairie home on January 17, 1851, age 73 years and 11 days. The cause of his death is reported to have been kidney trouble. He had been ailing for some time.
Abraham Lincoln practiced law in Coles County for a number of years, most frequently from 1841 to 1847 and occasionally after that, although the county was not a part of the Eighth Judicial Circuit which included Springfield where Lincoln lived and had his law office.
When the Eighth Judicial Circuit was organized on January 23, 1839, Decatur in Macon County was the nearest courthouse town on the Circuit to Charleston, Coles County seat, which was in the Fourth Judicial Circuit. Shelby County was added to the Eighth Circuit on February 23, 1841, making Shelbyville the nearest county seat on that circuit to Charleston. It was following this change in the circuit that Lincoln began to take cases at Charleston in considerable number. The addition of Moultrie County (Sullivan) when that county was created on February 16, 1843, brought another county seat town which was near Charleston. When Edgar County (Paris) was added to the circuit on February 21, 1845, Shelby County was detached, but was returned to the circuit on February 11, 1847. Thus from 1847 to 1853, Edgar, Shelby, and Moultrie counties were on the circuit. In 1853 the Eighth circuit was reduced in size and all counties south of DeWitt and east of Sangamon were detached.
Thus it was that Charleston, although not on the Eighth circuit, but on the Fourth, was a logical stopping place for those following the courts in Shelby, Edgar and Moultrie counties. The presence of his relatives in Coles County gave Lincoln an additional reason for stopping at Charleston.
Saturday, September 18, 1858, was the biggest day in the history of Charleston, that quiet little county seat amid the cornfields of eastern Illinois. It was the day that Abraham Lincoln met Senator Stephen Arnold Douglas in the fourth of their seven historic debates in the campaign for the United States Senate. Lincoln, "the first and only choice of the Republicans of Illinois for the United States Senate," did not gain a Senate seat, but more importantly, achieved a renown in these encounters with the "Little Giant" that opened the road to the White House.
Coles County is home to several well-known legends and folktales, including the Mad Gasser of Mattoon and the ghost of Mary Hawkins at Pemberton Hall. Michael Kleen has documented many of these tales, including the "witch's grave" of St. Omer Cemetery and story of "Rag Doll Cemetery," in his book Tales of Coles County, Illinois. The legend of "Rag Doll Cemetery" formed the basis of the independent film Rag Doll, which was filmed primarily in and around Mattoon, Illinois in 2010. Additionally, the novel A Family Possessed by L. W. Stevenson is based on poltergeist activity experienced by a rural family living in Coles County in the 1980s. Ashmore Estates has long been a part of local folklore. Originally the almshouse at the Coles County Poor Farm, it is now a haunted attraction and a place of interest for paranormal investigators.






---
| | | |
| --- | --- | --- |
| | Coles County Resources | |
More resources coming soon - check back again
---
| | | |
| --- | --- | --- |
| | Miscellaneous Resources | |
| | | |
| --- | --- | --- |
| | USGenWeb Archives Project | |
| | | |
| --- | --- | --- |
| | Surrounding Counties | |






Our thanks to Linda Lang for her many, many years of dedication to Coles County genealogy and ILGenWeb as a project.
---